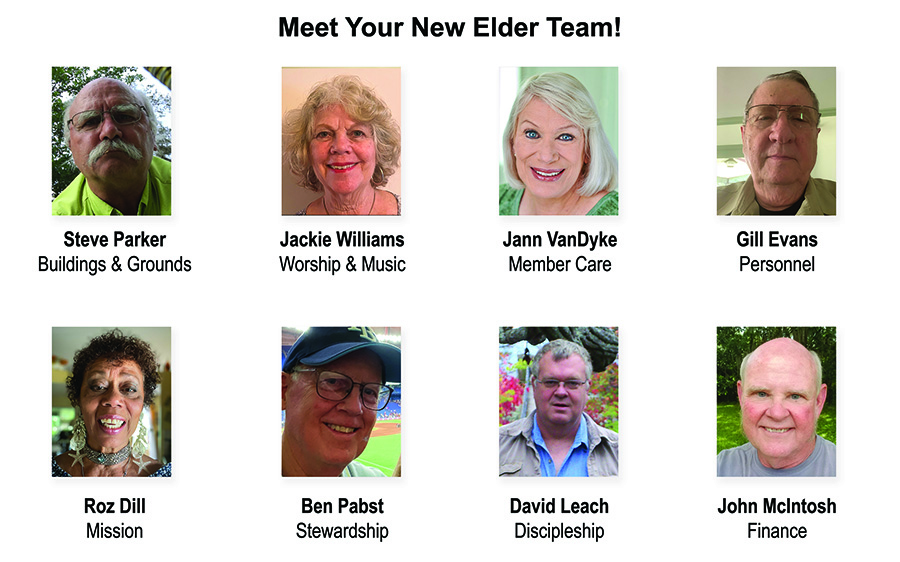 Meet the 2022 Elder Team
Steve Parker: Buildings & Grounds
I moved to Florida from Walla Walla, WA the same year that we had Hurricane Charley and three others, about 15 years ago.   I had a job in agriculture and have always been comfortable outside.  My wife Jayne is also a member of this church and we have three children. Travis is a Senior Chief in the Navy and based in San Diego with his wife Natasha. Maggie is a PCUSA minister at a Lutheran Church in Whittier, CA where she lives with her husband Daniel.  Hayden is a Jr High Phys Ed teacher in Sugarloaf Key, he and his wife Kiki live in Big Pine Key.  At home with Jayne and I are Trinity our terrier mix rescue and Lando the cat.
---
Jackie Williams: Worship & Music
---
Jann VanDyke: Member Care
Jann Van Dyke is a retired elementary teacher who has traveled the country, compliments of her military husband, Buzz.  She grew up in Pennington, New Jersey, where she attended Pennington Presbyterian Church.  Jann sings and plays viola (not at the same time) on the FPC Praise Team.  She and Buzz have become actors during their retirement and enjoy working together on commercials, infomercials, and films.  They have two children and three grandchildren.  After attending different denominations of churches across the country, Jann is happy to be back home in the Presbyterian Church!
---
Gil Evans: Personnel
I was first confirmed into the Presbyterian church at Crafton, Pa., in April, 1954. It was very much an old testament church and I really had no enthusiasm for it, to put it mildly. Church was not a prominent part of my life until thirteen years later. I discovered Trinity Presbyterian Church in Pensacola, where I was a student naval aviator in the Naval Air Training Command. Trinity was definitely a different experience, and I liked it a lot. I met my wife, Marianne, there and we married in October, 1968. Our first child, Mclane Elizabeth Evans, was born October 5, 1970, at the Naval Air Station in Albany, Ga. I was released from active duty in the USN after a combat tour in Vietnam in March, 1972. We moved to Gainesville, where I finished the Master's degree at the U of FL that I had left incomplete when I enlisted in the Navy.
We came to Brandon in 1974 and made it a priority to search out a church home. When we visited First Pres of Brandon we felt we had found the place we needed to be. Our son, Kenyon Mclane Evans, was born on Friday, the thirteenth of August, 1976. Our children were baptized here, Marianne's mother and my parents are buried in the prayer garden here at the church. Marianne and I have both served the church in several capacities, including on session. I have been on stewardship and mission committees and I have served as clerk of session
---
Roz Dill: Mission
Born and raised in Dayton, Ohio. Educated at Central State University, Wilberforce Ohio majoring in Health, Physical Education and Recreation. Later I would receive my associate degree in Adaptive PE at USF in Tampa.
Upon graduating, I accepted a position in Germany working for 11 yrs. for the US Army at various recreation Centers throughout Germany ending as a Staff Director for 5 Rec Centers and 1 Travel Center. I traveled extensively in Europe and North Africa. I married twice, in both marriages I travel extensively and enjoyed our family relations.
While married to my 2nd husband, Lou Dill we lived, traveled and educated ourselves for 6 yrs. in Thailand. I became the local tour and travel assistant to many of the international families.  At times more than 50 persons went with me to cities and countries such as Penang, Vietnam, Nepal, India, China.
Lou and I returned to the states in 2000, settled in Brandon until Lou's death in 2020. We enjoyed volunteering with various community, and church activities together. I also taught PE for Hillsborough County and the Florida Virtual School. I retired from teaching to care for my family
At present I volunteer at 1st Presbyterian Church Brandon playing Handbells, Life's Treasures with Hospice, fostering cats and dogs for Hillsborough County and one of St Petersburg's Animal Rescue Centers.  I've also just accepted a position at Straz Performing Arts, Tampa as a House Manager.
---
Ben Pabst: Stewardship
FPCB is a special place for me and my family. I'm a member since 1979. I married my wife, Lynn, here in 1982. Our adult children, Chris and Meghann, were baptized and confirmed at this church. I am honored to be the next Stewardship elder
Over the years I have served on different ministry teams, both as an elder and as a team member. The first time I was asked to be an elder on the Stewardship committee by Paul Reiter, it was life changing. I found an area where I could use my talents and time to serve God. This service turned out to provide a lot of learning  for me as well. I know that this term on Session will provide another opportunity for service and learning with our church and its members.
I enjoy participating in the CUPIDS small group and the Sunriser's breakfast. During the week this retired educator and Navy Veteran is fulfilling the role of Grandad Bean to my two granddaughters, Mary Ellen and Annie.  A true blessing for "Bean and Lynnie" that reminds us each day that a life of service can be both full of wonder and exhausting!
---
David Leach: Discipleship
I have been with FPCB for only a few years, but have been part of the Presbyterian Church for over 35 years. Since I have been at this church I have served with the Youth Leadership Team, Discipleship Team and the Nominating Committee.
I have a passion for our church education and growth, I believe that the more we invest into our members with their spiritual growth, we will increase our Christian Faith together.
When I was at the Korean Presbyterian Church of Tampa I had worked with the younger generation from Pre-K to 6th Grade as a Sunday School Director and Teacher for the 5th & 6th Graders.  I had spent about 7 years as a Youth Director & Worship Leader working and developing young disciples.
I am looking forward to serving our church as an Elder by continuing  to strengthen our members along with increasing our congregational size.
---
John McIntosh: Finance
Sandra and I wed in 2002 and cherish our four children and six grandchildren. I grew up in Columbus, Ohio and moved to Tampa in 1972. After working 40 years for Tampa Electric, I retired in 2014 from Substation Engineering as Lead Control Systems Analyst. In 2000, I joined FPCB by Letter of Transfer from Forest Hills Presbyterian Church. I presently praise the Lord at FPCB through the Chancel Choir, the Praise Singers, the First Ringers Handbell Choir, the Living Word Sunday Class, the Fullness of Faith Class, the Sunrisers Prayer Group, when delivering Meals on Wheels and when picking-up donated bread from Panera Bread for Meals-on-Wheels.
Meet the incoming 2023-2024 Elder Team