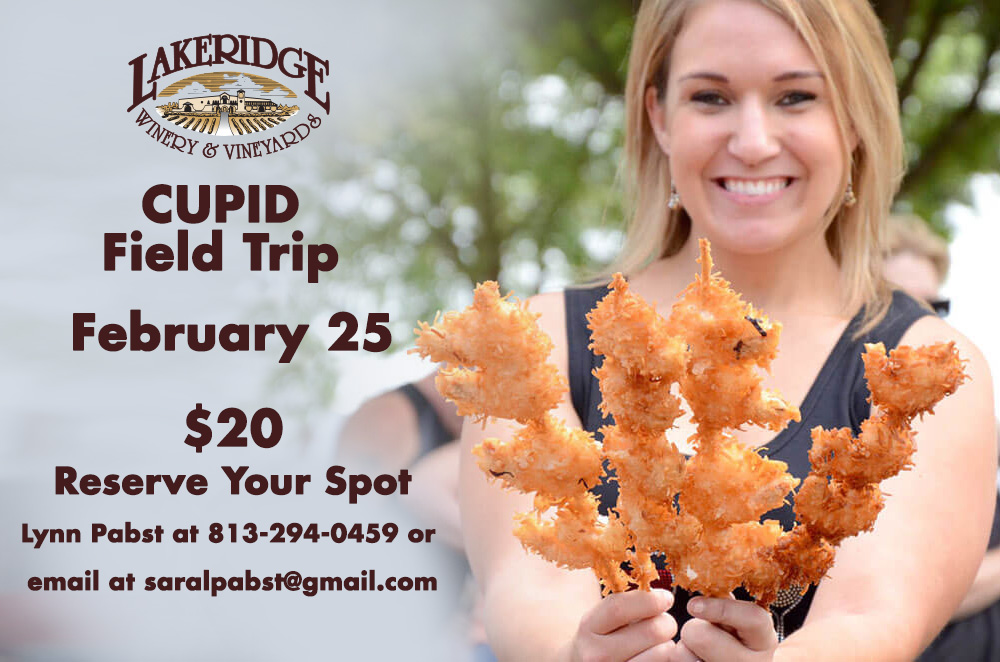 Field Trip to LakeRidge Winery
2
2 people viewed this event.
FIELD TRIP! FIELD TRIP
Yes it is true, CUPIDS (Couples United In Devoted Service) will be sponsoring a trip to the LakeRidge Winery in Clermont.
Who: Any adult from FPCB, friends are welcome as well.
When: Saturday, February 25th
Meet at church at 8:45 to leave by 9:00 am.
Return to church by 4:00 pm.
How will we get there: We'll all ride together on a chartered bus
What will we do while we are there? There are winery tours, food trucks for food, a gift shop, and live music . They call it Weekends at the Winery
What do I bring?
a) a folding chair to sit with others to enjoy the day under the trees.
b) money or a card to buy lunch and/or wine
What do I do to reserve my spot? The cost for the trip is $20 per person to cover the cost of the bus. You can make your reservation at the signup table in Mauldin Hall. THERE ARE A LIMITED NUMBER OF SPACES, so make your reservation early!
Questions? – Call or text Lynn Pabst at 813-294-0459 or ask any of the CUPIDS at the reservation table.