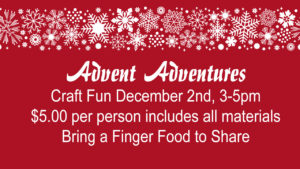 Advent Adventures
On Sunday, December 2 from 3- 5pm come and make some decorations for your home for the Advent season. There will be crafts for ages 3 through 90. Cost is $5 per person to cover the cost of materials. Please bring a finger food snack to share while you craft.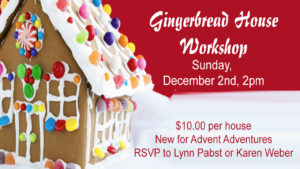 Gingerbread House Workshop
Would you or your family like to make a real gingerbread house? Then sign up for this event on Sunday, December 2, at 2:00pm (an hour before Advent Adventures). The cost is $10.00 per house (which includes all decorating materials).
Reservations by November 25 are a must, you may call the church office or Lynn Pabst at saralpabst@gmail.com.