Advent Adventures is a tradition at our church where on the first Sunday of Advent we have gathered in Mauldin Hall and made things for our home – decorations, keepsakes, ornaments to decorate our home during the Advent Season.
Last year we did Advent Adventures in a box, people could order crafts and pick up their box of supplies to make at home. There was ZOOM support, which provided an opportunity to interact with others.
For 2021, we are moving back to the church, but still we want to add a little more adventure to the event, while being safe for all. This year we will have Advent Adventures each Sunday during the season: November 28, December 5, December 12, and December 19. Each Sunday there will be tables set up outside Mauldin Hall . There will be examples and people demonstrating how to make each craft at the table. You can take a glance and pick up a packet of materials to do them yourself at home. The tables will be open from 8:30 – 9:15 am and 10:30 – 11:15 am each Sunday.
Advent Adventures FAQ
How much do these activities cost? A suggested donation of $2 per craft.
Do you have to make reservations? No reservations needed. But, if you know you want certain crafts/activities, then please email Lynn Pabst at saralpabst@gmail.com. They will be sure to be ready for you each week.
Craft Descriptions
Week 1 November 28th
This is the first Sunday of Advent and the Hope candle will be lit. Today's activity will involve choice
Rustic candle display – Choose this one to make a display to use at the beginning of each week of Advent. A devotion will be included.
For younger kids there will be kits to make scented play dough Advent wreaths of their own.
You may also choose a bright felt banner with a phrase to brighten the season. Some ideas may be "Merry Christmas" or "Joy to the World".
Rustic Candle Display
Paly Dough Advent Wreath
Felt Banner
---
Week 2: December 5th Second Sunday of Advent
For many years there has been a Christmas tree in Mauldin Hall that is called "The Church Family Tree. We have been encouraged to bring in an ornament with our family name on it. All
through the season of Advent the ornaments hang on the tree for all to see. After Epiphany the tree is taken down and the ornaments are distributed to families that have their names on the tree. Those who pick up their bags, are asked to pray for that family/person for the year. Then on the first Sunday of Advent the next year they return the ornament. (Don't worry we remind you)
So our tree can get new ornaments for our tree, today's activity will be ornaments. You can choose to make one for your family to stay here and another for home. Whatever you would like.
Again we have choices:
Macrame ornaments – name hooked to hanger
Wooden shape with family name
Name ornaments glitter ornaments. Names made from Cricut machine as you wait!
---
Week 3: December 12rd Sunday of Advent- Joy
This Sunday is the Christmas Pageant, which will bring lots of Joy to all who watch.
The craft for today is to make a special tea cup ornament that looks like hot chocolate.
While you craft, we encourage you to help yourself to a packet or two of hot chocolate mix and goodies. Make your own cup of joy – a cup of hot chocolate.
---
Week 4: December 19th the 4th Sunday of Advent – Peace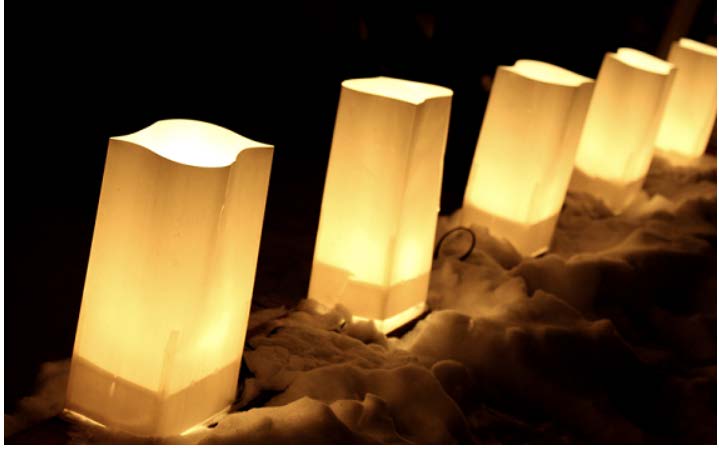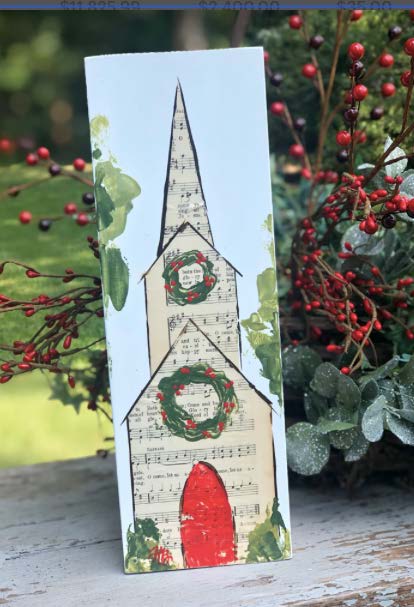 This week the activity is to make luminary kits. You will pick up your paper bags, sand, and votives to use to light a path at your home on Christmas Eve. The night Jesus Christ the light of our lives, was born. There will be examples from simple to complex luminaries.
There is one additional decoration on this day available to make. This is more of an adult craft to make. A church decorated for Christmas made from vintage hymn books.
First Presbyterian Church of Brandon wants to draw you and your family near to focus in on the love of Christ these Make and Take Christmas Crafts are a reminder of the love Jesus Christ has for you. We hope you enjoy making them and using them for years to come.