Thanks to everyone who made the 2018 Feed the Bay possible. Looking forward to it again next year.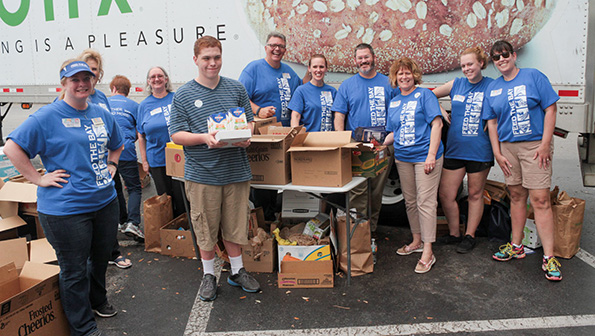 What a great turnout for Feed the Bay!  Thank you for representing FPCB so well!  Between both locations, we had 35 people and saw many of our own out there shopping!!!  Check out our facebook page for more images.
31 church campuses
12 agencies
704 volunteers
124,254 lbs. of food collected

15 Publix locations

Together we DID more!!
---
Feed the Bay is April 15, 2018. We are challenged to go out on that day between 9am and 2pm to shop for local food banks at participating Publix locations. There will be trucks in the parking lots ready to take your generous donations. Please visit www.feedthebay.org or someone from the Mission Committee for more information. T-shirts and totes are available to order after both services in Mauldin Hall. Together we can do more!!!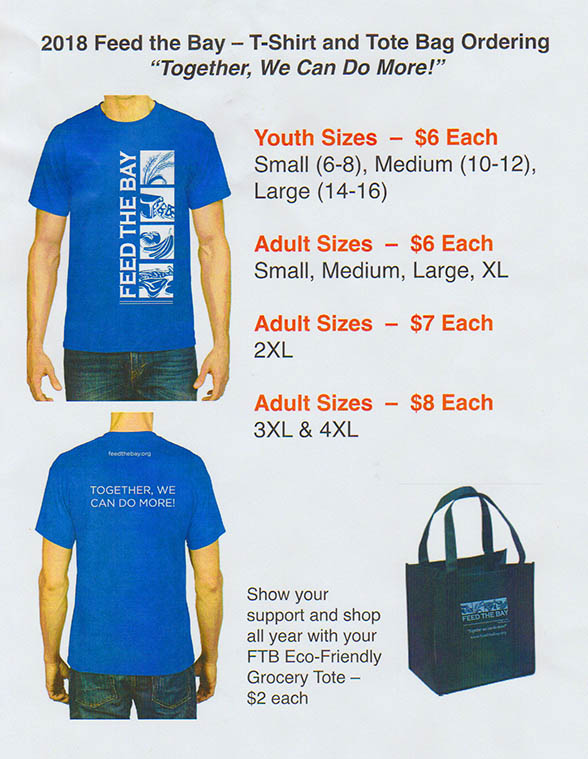 YOU can help Feed the Bay by:
Volunteering to load trucks
Buying t-shirts and bags
Donating cash
Praying for this worthy cause
More about Feed the Bay
Our goal is to raise 150,000 pounds of food for the local pantries together with the other community churches.  This event started in 2006. Now there are over 33 churches and 17 stores participating.
Grocery List:
Corn Oil
Coffee
Maseca Flour
Oatmeal (instant)
Grits (instant)
Grain Crackers
Meals In A Can (pop top)
Spaghetti Sauce With Meat
Peanut Butter (plastic jars)
Boxed Or Bagged Cereals
Boxed Macaroni & Cheese
Plastic Bottled or
Canned Juice
Jelly
Sugar
Rice
Mayonnaise
Canned Sloppy Joe
Canned Fruits
Canned Vegetables
Canned Chili
Canned Meats
Evaporated Milk
Non-fat Dry Milk
>Ramen Noodles
Pasta/Macaroni
Pinto Beans
Non-Grocery Needs
Shampoo
Deodorant
Conditioner
Toothpaste<
Toothbrushes
Bar/Liquid Soap
Feminine Products
Baby or Body Powder