SUNDAY, MARCH 31, 2019 – 9:00 am – 2:00 pm
And new this year!  Additional hours Saturday, March 30 – 6:00 pm – 8:00 pm
Mark the date on your calendar now, Sunday, March 31, as we join together with many other multi-denominational area churches to support "Feed The Bay."
What is Feed the Bay?  Feed the Bay is a coordinated community outreach uniting churches throughout Hillsborough County along with Publix Super Markets, designed to stock the shelves of participating food pantries.
What is the Purpose of Feed the Bay?  For the community and church to come together as one body of Christ and fill our local food pantries for four to six months. Our goal this year is to collect 150,000 pounds of food for the pantries.
When is Feed the Bay?  Sunday, March 31, 2019 from 9:00 am – 2:00 pm, and new this year for your added convenience, Saturday, March 30, 2019 from 6:00pm- 8:00 pm.  
FPCB Youth will be volunteering at the Brandon Mall Publix (939 W. Brandon Blvd, (near Burlington Coat Factory) from 11am – 2:30pm, Sunday, March 31.
Since starting in 2006, Feed the Bay continues to be a unified effort of local Bay Area churches to show the love of God to our community. This is a concentrated effort of God's people for 5 hours on one Sunday every spring to help fill our local food banks and emergency food pantries when supply is desperately low.
How does Feed the Bay work?
1.
On Sunday, March 31, along with 30+ other area churches, we will
receive
a suggested grocery list in our church bulletin.  We will be challenged to leave church and go shop at participating
Publix Super Markets
or other stores close to home between the hours of 9:00 a.m. and 2:00 p.m. for the benefit of those in need in our communit
y
.
2.
Take
the list to a grocery store to purchase whatever items
you
choose to buy.
3.
After shopping, drop
your
purchase off to volunteers located at semi-trucks parked in lots right outside the participating stores. Volunteers
, including our own Youth Group volunteers from First Presbyterian Brandon
then load the food on the trucks.
4.
At 2:30 pm drivers will take the trucks and head to each of the food pantries.
5.
Upon arrival
at the food pantry site
,
church volunteers working alongside agency volunteers and staff will unload and sort the donated items.
How can you participate if you are not in town that weekend?
You can participate by purchasing gift cards from any grocery story or supermarket and drop them off at the church office or place them in the offering plate between now and March 31.  If you choose to participate by donating money instead of shopping for food,please place cash or your check made payable to Bay Life Church in an envelope and clearly mark it FEED THE BAY. These can also be dropped off at the church office or in the offering plate between now and March 31.
How is Publix Super Markets partnering with Feed the Bay?
Publix Super Market is the participating partner in this event. They will provide clearly marked easy access to all food items on the shopping list along with comparable pricing. Publix has also donated semi-trailers and drivers to help with delivery to the food pantries.
How did Feed the Bay become a reality?
Feed the Bay was started by Bay Life Church, Brandon, in 2006. The event worked the same way and has grown every year.  The event has grown to have over 33 participating churches and 17 participating grocery stores.  The vision for a community effort came into being and has quickly grown into community support for one another. Local business and churches of Brandon and Tampa come together to shop, collect and supply our local community food banks.  Now, thirteen years later, area churches throughout the county are united as one body – the body of Christ – with conjoined efforts to Feed the Bay.
For more information or to sign up for volunteer opportunities, visit the Feed the Bay website http://www.feedtheway.org/
* Source for information contained in this article is the website www.feedtheway.org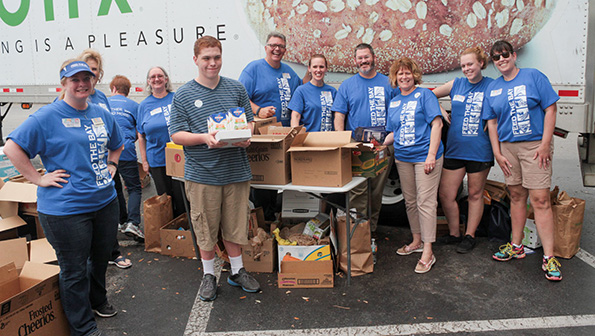 Check out our facebook page for more photos.
124,254 lbs. of food collected

15 Publix locations

Since its inception, Feed the Bay has collected 1,920,467 pounds of food, distributed to local food banks to help those in need.
---
Grocery List:
Corn Oil
Coffee
Maseca Flour
Oatmeal (instant)
Grits (instant)
Grain Crackers
Meals In A Can (pop top)
Spaghetti Sauce With Meat
Peanut Butter (plastic jars)
Boxed Or Bagged Cereals
Boxed Macaroni & Cheese
Plastic Bottled or
Canned Juice
Jelly
Sugar
Rice
Mayonnaise
Canned Sloppy Joe
Canned Fruits
Canned Vegetables
Canned Chili
Canned Meats
Evaporated Milk
Non-fat Dry Milk
>Ramen Noodles
Pasta/Macaroni
Pinto Beans
Non-Grocery Needs
Shampoo
Deodorant
Conditioner
Toothpaste<
Toothbrushes
Bar/Liquid Soap
Feminine Products
Baby or Body Powder
Information about Shirts and Bags
Feed the Bay tee shirt orders are being taken in Mauldin Hall — $6 ($7 for XXL or $8 for XXXL) and $2 for the shopping tote.  Checks for shirts or totes payable to Bay Life Church with "Feed the Bay" on the memo line.  Cash or checks may be given to Jalene Royle or Lynn Lianzo.