CALL the Church office at 813-689-4597 for information:
 
Box Car City for Family Promise of Greater Brandon
April 28-29
Registration starts at 3pm
Program starts at 6pm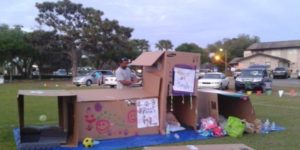 Box Car City is an opportunity to experience a night in the life of a homeless family. Come and build your cardboard home for the evening. We will be having a formal program beginning at 6:00 p.m. with music and real people sharing their stories. Come for the entire event or attend the program portion.
Entertainment Includes
Worship United Praise Band

Special Speakers

Useless Humor by Some Guy Named Frank

Deputy Josh Boyer, Hillsborough County Sheriff's Department Homeless Liaison
Tickets are $25 per person for admission to the entire event. Program only is available for any donation. If you are unable to attend we offer a Virtual Car for a $25 donation.
For more information or to reserve your spot contact Angela at azaneypc@hotmail.com
At First Presbyterian Church of Brandon
121 Carver Avenue
Brandon, FL 33510

National Day of Prayer
National Day of Prayer observance is Thursday, May 4. The sanctuary will be open for prayer from 9am-4pm. Come and stay as long as you like to offer prayers for our nation, its leaders, and our church. A meditation service, led by Pastor Mike, will be held at noon. Prayer makes a difference! Let us pray as Jesus prayed: Your kingdom come, Your will be done.
New Bible Study Starts Tuesday May 2nd
"The Fullness of Faith,"
Pastor Mike will be leading "The Fullness of Faith" beginning Tuesday, May 2, in room 103 at 7pm.  He's almost too excited about this class that will discuss theology and our understanding of it.
 
Summer Day Camp
(aka Vacation Bible School)
June 26-30
Classic camp activities and faith-building experiences
Kindergarten – 5th grade
9:00am—5:00pm
Lunch and snacks will be provided
$60 for members and affiliates
$90 for non-members
 3 & 4 year olds
9:00am—noon
Cost is $20
Lunch as well as morning and afternoon snacks will be provided.
Early sign up for church members and affiliates is May 7 and 14 in Mauldin Hall.
Open Registration Begins May 15th. Invite your friends and families with kids to experience this amazing camp right here at FPBC!
Volunteers Needed
We need you to help make this happen. You can help for the full day, morning, or afternoon shift.
Volunteer Opportunities
Teaching Assistants
Camper Management
Food  and Snack Preparation
Crafts
Music Assistance
Recreation
Many More
For more information, to sponsor a kid, or to volunteer, contact Jim Yockey at salyock74@gmail.com or text 661-0397.
All volunteers go through a background check to ensure the safety of the kids.